Tips to Help you Create the Right Mobile Website For Your Business
If your website is not mobile enabled, then you're probably missing a trick. Currently, across a broad range of our clients: 5-10% of visitors are using tablets or smartphones, and up to 40% are opening HTML emails on mobile devices. That's already 60% up on January 2011.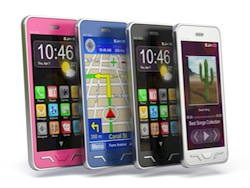 The 'hit' of not optimising for mobile devices is clear: from smartphones in particular, the bounce rate can be close to twice as high, and the number of pages viewed halves – so for as long as you don't have a mobile site, you're limiting your opportunity to reach and sell to your mobile visitors.
With tablet sales predicted to exceed laptop sales in 2013 and smartphone penetration continuing to soar… your future market will increasingly be using such devices to relate to, and interact, with your business. The challenge for you is to make the most of this opportunity.
Yet, many businesses fall at the first hurdle. We often speak with businesses who don't choose the right solution and end up investing, sometimes heavily, in solutions which are not right for them… particularly Apps. These are not the same as a mobile website and, if not considered carefully, can just end up disappointing you, rather than getting you the results you want, underneath the veneer of app success is an ocean of failure.
So, here's a quick run through of your options, and the best mobile solution for you…
Small Online Business / Low Traffic Site?
You need a mobile site, but can afford to wait until you think it's the right timing for you. The perfect site for you is a small bespoke built mobile site (possibly using Google Mobile Site Builder) which is mobile-friendly with shorter content and simpler navigation.
The only two exceptions to this are:
If you have 'high ticket' sales or customers, in which case they will not only be more likely to be using mobile devices, but your investment will be covered by the increase in business
If you have aspirations to grow rapidly online, in which case you'll need to plan for the future
Medium Online Business / Medium Traffic Site?
You will probably have hundreds of mobile visitors every week and, if you've not done anything, then you almost certainly will be losing a substantial business opportunity. You need to develop a considered, and bespoke mobile site. Don't leave it to Google, you need something better which designed, written and managed specifically to suit your business objectives.
The exceptions to this approach include:
News, content and media sites: you need to do much more than just make a pared-down version of your main site, you need to adapt it to integrate the full content and advertising
Non-commercial websites: if your existing main site doesn't earn you any direct revenue or business opportunity, then your mobile site won't generate income for you
Large Online Business / High Traffic Site?
If you haven't already, you need to get a mobile site for your mobile visitors in place as quickly as possible. You need to consider very carefully how the site will work – is it for lead generation, do you want to sell, are they going to search your site, does it need to integrate with the rest of your site… and, most importantly, how are you going to manage it?
You also need to think carefully about whether you need an App or not. The most simple litmus test is whether you think your mobile service would benefit from re-use: is it a shop? Is it media / entertainment? Is it interactive? If so, then an App would complement the mobile site (and can even be effectively promoted by the mobile site).
For this category, there are no exceptions. If you're a large brand or business, you need to take mobile incredibly seriously because these are the devices of choice for the connected world we live in today, and as they improve and connections get faster, then mobile will be increasingly the way that people use online.
Are you ready? Give us a call on 01962 605 000, or email us and we'll try to help steer you in the right direction.