How Not To Do Email Marketing: 4 Tips From a Recent Inbox Arrival
We just received this email in our inbox and felt obliged to share it, not because we like specifically 'naming and shaming' but because it shows that even the bigger brands can get it wrong. Badly wrong!
So, let's do a very quick 'deconstruct' job on this: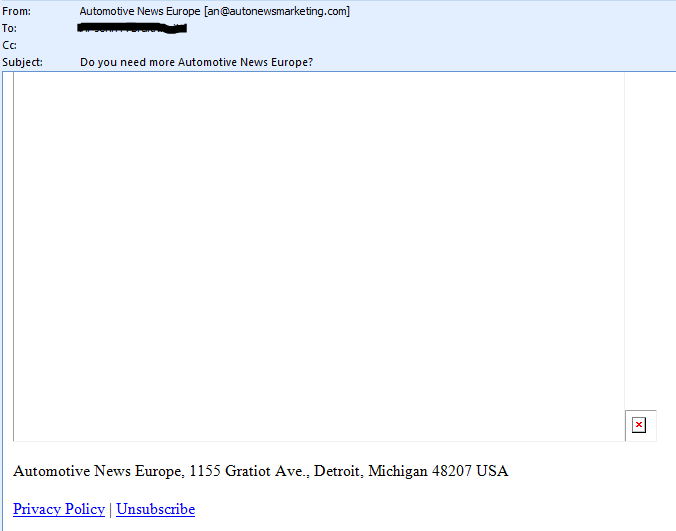 Headline – Do Not Ask a 'No' Question
"Do You Need More Automotive Europe?" is a mouth-watering invitation, isn't it? It's almost asking you to question whether it's worth being on this particular email list.
Sadly, this will only do one thing: increase the unsubscription rate, because, when it comes to email, no-one needs more, do they?
Body – Don't Rely on Images
Don't mistake us, images are really important for email marketing. A well placed image or highlight can increase click through and engagement substantially.
However, as you can see from this screen grab, for those (and there are many of us!) who have images by default switched off, if you only have images, then your message is lost.
User Experience – Think Logically
We expect the sender saw this email in a nice, bright 27″ iMac screen with the image in it's full designed glory. Sadly, no one thought 'what will the recipient see'. No one thought about the substantial proportion of recipients who'd see an empty box.
Worse still, because of this, you can now see the full problem:
A headline raising the question of interest in receiving further emails
An empty box
A large unsubscribe link
The result will be that more people will unsubscribe than will actually see the promotional image.
Personalise – Think About the Receiver, Not Your Process
Finally, to cap it all off, because of the missing image, what you see is something impersonal (not even a salutation) an empty box and then the only content other than the privacy and unsubscribe links is an American address selling a European service.
Make Sure You Avoid an Email Fail
There are so many things you need to get right with your email marketing even before you design and send an emailshot. Every part needs to be meticulously planned. If you want us to help you, then please call 01962 605 000 or send us an email via our funky form.
And, even if you don't need help, share this page with your contacts using your favoured social flavour!