The Problem – Disorganised Goodwill
Just like everyone else in business, we live in a local community and when we knew that there was going to be a lockdown coming, we recognised that there were major problems in communities offering to help support their neighbours.
Most local groups were trying to use technology, but generally relying on Facebook or WhatsApp, with these associated problems:
Personal data was being shared openly in forums which infringed privacy and put 'at risk' potentially at greater risk, and
There was no audit trail for help requests, or responses, leading to the potential for confusion, and
Those who offered to help tended to respond without knowing if there were more local and/or immediate respondents available, and
Either one person took responsibility for it all, running the risk of exhaustion, or
No-one took responsibility as they assumed others were in charge
On top of all of this was the knowledge that the most vulnerable category, the elderly, were least likely to be users of Facebook or WhatsApp.
We saw a microcosm of this issue in our local area and whilst scrolling our local Facebook Group, on a Monday evening in March, we reached out to the Admin.
The Idea – Organised Action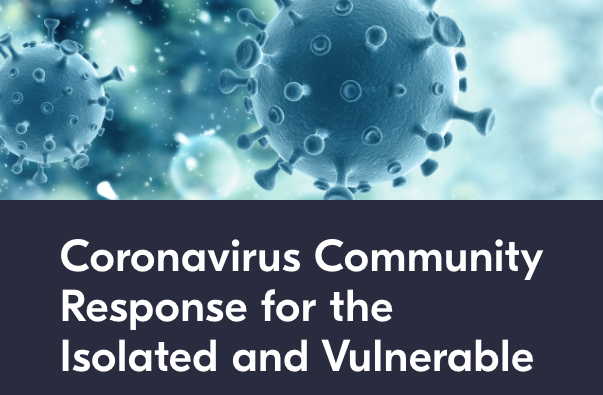 We knew there were tools in use which could solve these problems, and also provide these further benefits:
Those wanting help just needed to fill out a web-form (or get someone to fill out on their behalf), and
Those offering help could just fill out a web-form, and
Only known admins would have access to the personal data of those seeking or offering help
When it came to matching, only when a one-to-one named match had occurred would the two parties (who had both shared their full contact details, including addresses and consented to the process) be introduced individually to each other.
By using selected cloud software, this could all be managed by a small number of selected admins who were DBS checked and verified.
The Solution – Cloud Connections
So, for this project, we chose three enterprise-level solutions from well-established enterprise technology companies:
Gmail from Google – because it is free, quick to set up, offers loads of storage space, and has the most versatile API, and
Airtable – the ideal hub to gather and organise the helper and help requests information, as well as to run the workflows, and
Zapier – to send automated trigger emails and alerts as and when stages in the workflow have occurred
Better still, we knew that this could be set up and launched by anyone with reasonable technical knowledge. You do not need to be a programmer, you just can follow the instructions, which is why we created this page.
The Benefits – Safe and Responsive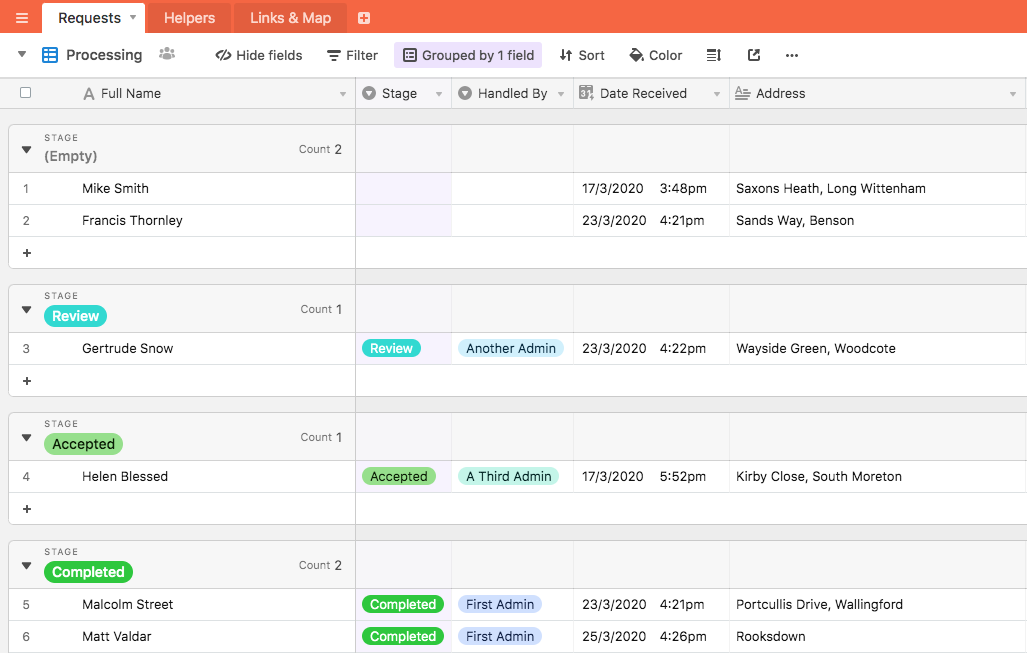 We got the proof of concept working within a couple of days, launched the system to helpers two days later, and received our first request for help within a week.
Since then, these things have happened:
We have a one-hour pick-up (average) of any request
Our average response time is under a day (way better than any regional approach)
Our admins (5 of them) share the load, so no one is inundated
Zapier has launched a 'free' COVID-19 business account to help initiatives like this: https://zapier.com/blog/zapier-covid-19/
Airtable has launched a 'free' COVID-19 upgrade too: https://airtable.com/covid19
Which means that this solution is really scalable, and with the different views in Airtable, can continue to be decentralised as it grows
Our solution is now live in three different communities in England, being tested in two others… so far! Are you still interested? Read on…
Here's Your Toolkit
So, first thing first, you should read this: Community Coronavirus Support Toolkit (PDF)
If that makes sense to you, great. If not, find someone who understands it, and then you can, really quickly, set up a demo and test it.
If it works for you, we then have a range of templates for you to get started. These can also be opened in Google Docs and other Open Office formats. In these documents we cover:
A document to support Admins and their role
A document to give Helpers guidance on how they need to respond
A 'how it works' for those asking for help
A flier template you can adjust to suit your neighbourhood
You can download these here: Coronavirus Templates for Users of Our System (Word Docs)
Please share, and use. We see this as a simple safety net for any community that wants to give their residents the ability to request and receive help as efficiently as possible.