One-Stop Solution to the EU ePrivacy Cookie Law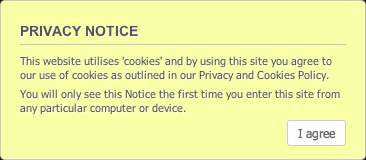 We have developed an end-to-end, legally sound, easy to manage solution for businesses and individuals seeking to meet the EU ePrivacy cookie law to ensure website compliance.
Step 1: Cookie Audit
The first step that any business needs to take is to perform a cookie audit, you can do this on your own or we can do this for your for a small fee – the advantage being that you get an endorsed and dated report from Ergo Digital detailing your requirements.
Step 2: Updating Your Privacy Policy
We are not a legal firm, therefore are not in a position to provide legal advice or documentation. However what we can say is that your privacy policy must have much more information on the cookies you serve from your website, what they are used for and who owns them – as well as offering assistance with the removal of cookies. We have worked to develop this process with Howard Kennedy below, and if you are looking for Legal help, then please contact them using the details below.
Step 3: Add a Privacy Message
Just doing the above is not enough, you need to also put a visible message in front of all your website visitors on their first visit alerting them to the cookies you use and making sure that they opt-in to accepting them to use your website.
There are various forms of implementation, and we have created the most versatile solution for website owners with the ability to change the message, background, link, button name and how it appears and is closed.
Make Sure You're Legally Compliant, a London Law Firm Endorses Our Approach:
"We have worked with Ergo Digital on a number of websites to meet the recent changes in EU ePrivacy legislation. We have helped develop their cookies opt-in notices to complement our privacy and cookies policy changes.
"The technical implementation does not provide total compliance, because doing so would require an absolute acceptance of cookies, which in turn would put off visitors and make some sites unworkable. Therefore the commercial solution we have jointly developed relies on the 'implied consent' of the user to the use of cookies and we believe the regulators will not have a problem with this compromise."
Brian Eagles, Head of IP and Media, Partner
Howard Kennedy – http://www.howardkennedy.com
If you would like assistance in the development of your Privacy and Cookies Policy then Howard Kennedy can help – brian.eagles@howardkennedy.com
WordPress Plugin for EU Cookie Law Now Launched
If you have a site built on WordPress, then we have made your life even easier. We have launched a WordPress plugin which you can use to not only setup, but also manage the ePrivacy pop up in your website or blog.
Settings you can manage include colours, fonts, text, button name and how the window appears. And it's all condensed into less than 1.5k of code! Contact us to find out more.