Effective CRM Starts by banning the 'Snooze-Letter'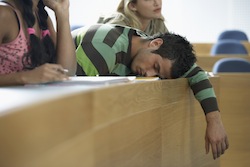 One of the main problems for digital marketing is born out of eagerness to put the horse before the cart. To clarify… that is to decide on a campaign without a well thought-out strategy.
So it is with much of email marketing. It makes so much sense to use emails over pretty much every other form of direct maketing, and most fault foul of the two most common problems:
The company involved doesn't even have an opted in email list (and, please don't get us started in terms of buying email lists… )
The company does have one or more email lists, but not idea of what to do with it…
The first group need to start from the basics – they need to build in a plan for email data capture and seek opt-in as a part of that process.
The second group, if they aren't given any guidance, may end up making the cardinal sin of email – developing a 'snooze-letter'.
How does a 'snooze-letter' happen?
There are three main reasons this occurs:
A business doesn't really want to work harder: it could be that a business produces press releases and decides to repackage them. As if, by some miracle, they are interesting in the first place.
A business is too self-obsessed: it genuinely believes that people are interested in it's promotions, awards and news. They may be, but only if it directly affects them (important note: don't write emailshots for the benefit of your staff)
The wrong person is driving it: commonly, particularly within SMEs, there is no one that familiar internally with emails or even much digital marketing. Without marketing driving it, then the fundamental reasons for emailing may well be lost
Let's get personal: do you deliver snooze-letters?
It's OK, you're not alone if you think you may have created snooze-letters.
The first rule of coming out of this ennui is to realise that you do this. Here's a quick checklist for you:
In your last emailer, was all the content about you and your business?
No, really, was it? Open it up and take a look!
Have you used the same template / look and feel for more than 12 months?
Did anyone think about the recipients when compiling the content?
Is there anything of real value in the email? An offer / promotion / nugget of wisdom / freebie?
Let's all make a promise, or at least some kind of commitment… never again will we create a newsletter which is bland, unimaginative, useless and pointless ever, ever again.
If you want help changing your email marketing then give us a call on 01962 605 000 or contact us using our funky form.
Ciao for now.