Going to Local Social Summit?
"Connecting with Consumers where Local meets Social"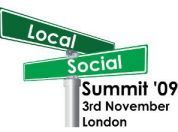 Looking forward to going to the 'Local Social Summit' in November. Speakers from all round the globe coming to London to get busy and share some of the latest stuff.
Ergo will be there… keeping an appropriately firm finger on the pulse and making sure that we know exactly what we're talking about when advising clients.
Maybe see you there? Local Social Summit Website