How to Wreck Seasonal Digital Marketing Campaigns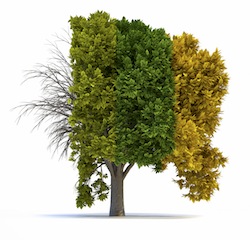 As we celebrate the Christmas season it again leaves us looking forward to 2013, but not
before we offer our final challenge of 2012.
When it comes to seasons, it is our view that all businesses have them. We were reminded of this at the beginning of December when the same client who emails us every year about this time did so again: "It's a bit quiet on our website, performance is down."
We replied: "Well, it is December, and for the last six years your performance is worst in December. Not many customers are shopping for your services in the Christmas season. So performance is down on November, but not December 2011, 2010, 2009, 2008, 2007 and 2006."
And we expect that next year, the same email message drop into our inbox! This client, thought he knows it, has not really accepted the effect of seasonality on his business.
They are not the only one. We remember working for a big outdoor sports retailer and the main distraction was that the senior management spent too much energy trying to sell at the wrong time: namely the autumn and winter seasons. They even put a winter theme on the website, as if that would fix the problem!
Challenge 1: Do You Know Your Sales Season?
For some businesses, this is obvious, for example Amazon is going to be shifting 17m products … IN ONE DAY just before Christmas. However they also know the subtleties of their business year, and although Christmas dominates there are other trends throughout the year and they know exactly what to promote when: cameras before the and smart shoes before term starts!
So, how about you? When is your season? Every client we work for has seasons, we can see it in all their digital performance. A quick scan of Adwords, analytics, conversion rates, repeat visitors and overall online performance tells its own tale. Business is never linear, with a number of peaks and troughs, and is also affected by local, national and international events.
If you think that your business is not seasonal, then it is most likely you are just not aware of them. Every single clients we have has seasonal effects.
Challenge 2: Do You Take Advantage of Your Season?
Once you recognise the seasonal nature of your business, then you need to do something about it. You need to translate this vital business knowledge into your future performance.
Take time to profile your seasons and develop a very clear understanding of why they exist: not just in terms of demand volume, but the detail of what is wanted. You may find that certain services and products have their own seasonal cycles, plan these out too, only then will you fully benefit from them.
Plan to Maximise Your Seasonal Marketing
Once you know your seasons, and your customer demands, then you can maximise the seasonal opportunity. Plan your services, marketing messages, budgets and offering in advance, and then be ready to seize the predicted opportunity.
If you are still preparing during the season you will miss the opportunity and have lost valuable business momentum and time. Everyone in your business has to be aligned to get the best possible result.
Don't Fight the Wrong Battles!
There's no use putting up a sail if there is no wind. Energy spent on desperately trying to work out how to improve performance at the weaker times of the year is wasted. You will make very little difference and will end up distracted from the main opportunity – which is to maximise your seasonal activity.
So, if there's one resolution you need to make for 2013 and beyond: make seasonal marketing one of the cornerstones of your digital planning!