Why You Need a Mobile Website
If you're an online business and you have a reasonable active website (say 100+ visitors a day), then it's about time you planned for (or fast-tracked) a mobile website.
There is a trend happening at the moment across every single website we manage for clients – the proportion of mobile visitors to the site is doubling year on year. Currently most of our client sites are averaging between 10 and 15% of mobile visitors. This is up from about 6% this time last year.
We have heard site owners say:
"yes, but these are smartphone users, they can see and use my site on their devices."
True, but there's a massive difference between 'can' and 'like to'… and in virtually all cases, a non-mobile site will massively underperform a mobile one.
Analytics will give it away – if the bounce rate is measurably higher, and the pages viewed is measurably lower, then your site may be usable, but it is not liked and, ultimately, will not perform for you. Here's a good example:

You can see from the above illustration that pages visited is down, duration is down, bounce rate is up and, ultimately this site's performance will be punished as a result with conversions halved.
This is OK whilst the figures are at 12% of site visitors, but what happens when it's 25% next year, or 50% in 3 years' time?
Sounds fanciful? Let's see some statistics:
There are more mobile phones in use in the UK than there are people
By 2013 more people will use mobiles to get online than PCs (Google)
57% of people would not recommend a business with a bad mobile site (Compuware)
Gartner Research predicts Mobile Ad Revenue will be $3.3 bn in 2012 (and $20.6bn by 2015)
And, if that's not enough evidence, then just take a look around you: people are using their mobile devices for business, whilst travelling, out of office or home and even when in a social environment. And this trend is going to increase as people become more experienced with such devices.
Have You Also Accounted For Mobile in Your Email Marketing?
If you measure your email marketing and the devices they land on, then be prepared for another shock… Between 30 and 40% of your email recipients are now viewing your email in their mobile device.
Email layout and design is therefore simplifying and shortening to account for smaller screens… but there's also a further hidden issue – if they click through on an offer or promotion, then your email performance is going to suffer if you send them to your normal website rather than a mobile one.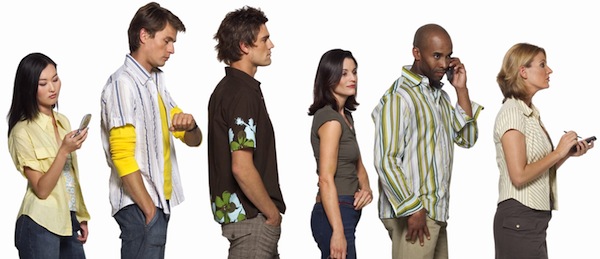 What Are Your Mobile Site Options?
What you do next is entirely up to you, but we are here to help guide you through the maze of options for mobiles – site or app? iOS or Android? Commerce or QR?
If you can have a smart mobile strategy then the opportunity is far greater than the cost. Just ask Ergo, we're here to help – simply call 01962 605 000.